U.S. voters might not have much faith in government, but among the skeptics, city mayors might have the best shot at earning a smile. In a new Zogby Analytics survey done for the U.S. Conference of Mayors, people favored their mayor more than they did their governor, Congress or President Obama. (The research firm polled 2,425 voters across the country.) While only 38 percent gave their city chief positive marks — and 54 percent went with negative — the President garnered thumbs up from just 36 percent and Congress a measly 15 percent.
Warm feelings for City Hall might be generated by the impression of local economies; the majority of those living in mid-size and big cities feel good on that issue.

(Credit: Zogby Analytics)
Overall, in fact, voters tend to feel better about the state of the city than the state of the nation.

(Credit: Zogby Analytics)
Notably, when it comes to perceptions about innovation, mayors still have an edge over politicians, but come in a distant third — behind small-business owners and even some recent graduates.

(Credit: Zogby Analytics)
From public opinion of public transit to the timeless city vs. suburbs question, here are some more compelling breakdowns from the survey.
Why Live in a City?
There's science behind how we get attached to place, as Sarah Laskow recently wrote in "When It Comes to Falling in Love With Cities, Size Matters." When asked about the best part of city life, an overwhelming majority said convenience. Arts and culture came in a healthy second.

(Credit: Zogby Analytics)
Of course, not everyone polled lives in a city, and the suburbs still prove alluring to many Americans.

(Credit: Zogby Analytics)
The report also breaks down the city vs. suburb preference by age.
Millennials, with 33 percent choosing cities, topped the age groups. Those 30-49 years old preferred suburbs over cities 39 percent to 29 percent, but Boomers (50-64 years old) preferred suburbs 40 percent to 19 percent.
Mayoral Marching Orders
Campaigning candidates in Philly, Chicago and Nashville take note: Public safety topped the list of what people think mayors should be focusing on.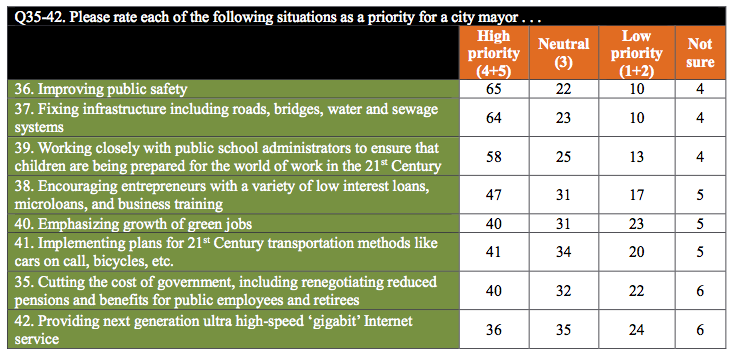 (Credit: Zogby Analytics)
Public Transit
As survey after survey after election proves, Americans — from millennials to boomers — are still in the process of figuring out the future balance of cars, trains, bikes and pedestrians. But a combined 41 percent said that transportation options like car-share and bicycles should be top of mind.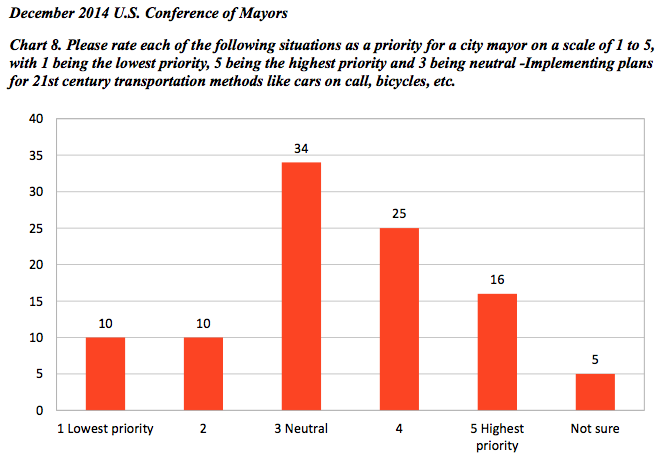 (Credit: Zogby Analytics)
Civic Tech Skepticism
As Next City recently covered in "Welcome to the Open Data Movement's Turbulent Teenage Years," navigating transparency and sharing data has been tricky for cities like Philadelphia. Perhaps fittingly, the poll shows people are mixed on whether local governments can figure out how to make tech progress work best for city services.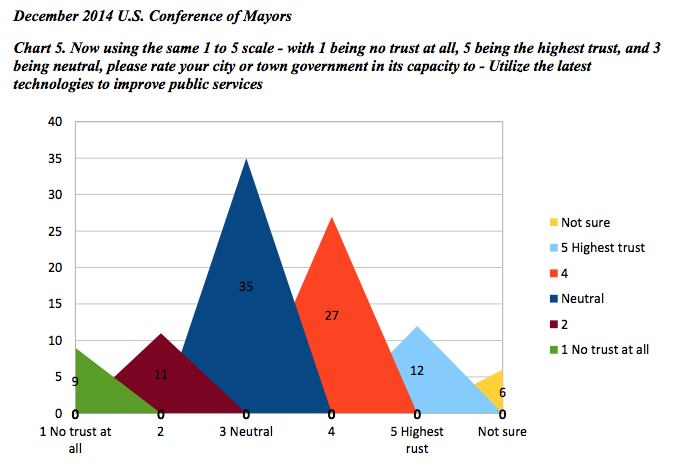 (Credit: Zogby Analytics)
http://nextcity.org/daily/entry/survey-rank-mayors-cities-president-congress-country